At Together, we believe that the elaborate B2B MarTech stack that we explored in Part I is ripe for disruption. With over $7B of spend and marketers struggling more than ever, in this post, we will explore what are some of the significant unsolved challenges for marketers globally.
The struggle in B2B marketing is real; CMO is the shortest tenured C-suite role across all B2B organizations. An average CMO lasts for just 3.5 years. That says a lot about the space we will explore in this blog.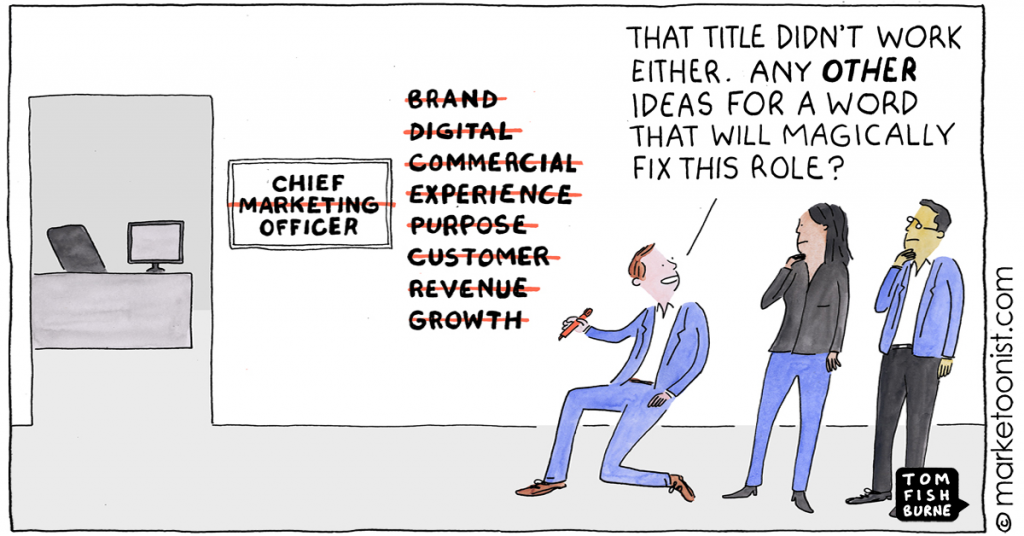 Despite that, 72% of CMOs said that their budgets for running marketing campaigns have increased compared to last year. So it's essential we talk about this.
So let's jump right into it.
From my experience and having spoken to multiple marketing leaders, the challenge that CMOs face comes primarily from misaligned and stretched expectations.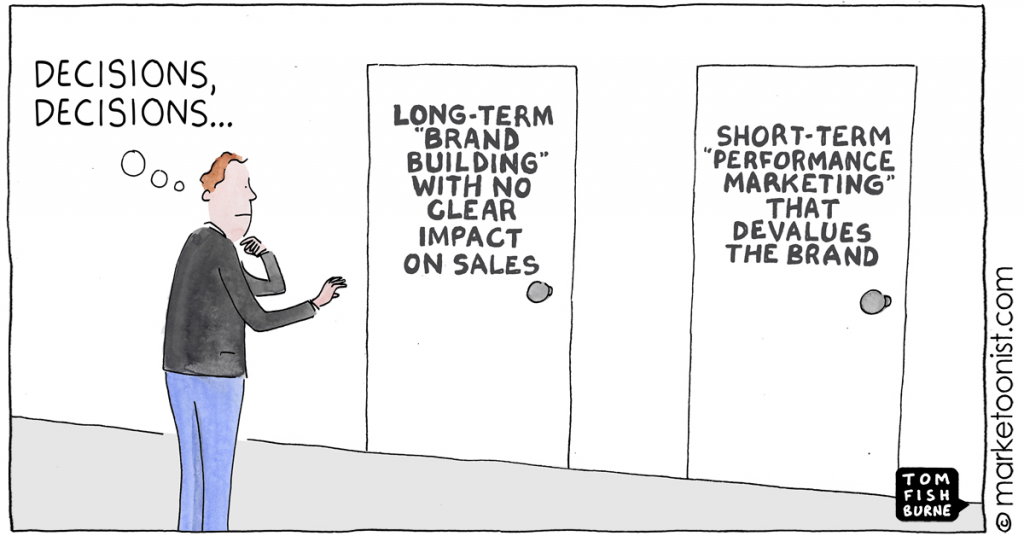 Here according to me, are some of the most important unsolved challenges in the world of B2B Marketing
Consistency & Predictability
B2B Marketers have historically struggled with being consistent. The core metric that B2B marketers are judged by is leads generated (MQLs). The primary reason for this is the complex nature of the jobs that they have to do.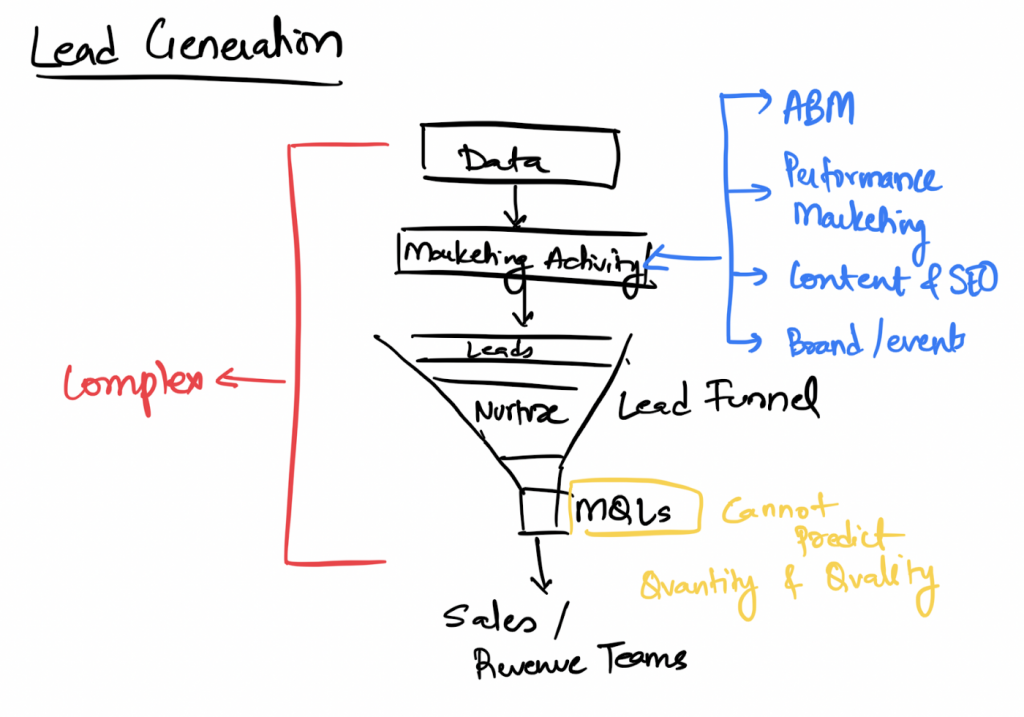 With so many moving parts, both across digital & offline channels and changing macro & micro environments, it is practically impossible to be consistent.
But let's take a deeper look at it.
The challenge starts from the top of the funnel to the bottom of the funnel of lead generation to MQLs.
Companies that can solve for either quality of leads or quantity of leads will definitely have a huge market opportunity in front of them.
Customization
We briefly covered this in the first blog; one recurring theme amongst B2B GTM motions is that they're incredibly different. Sliced across: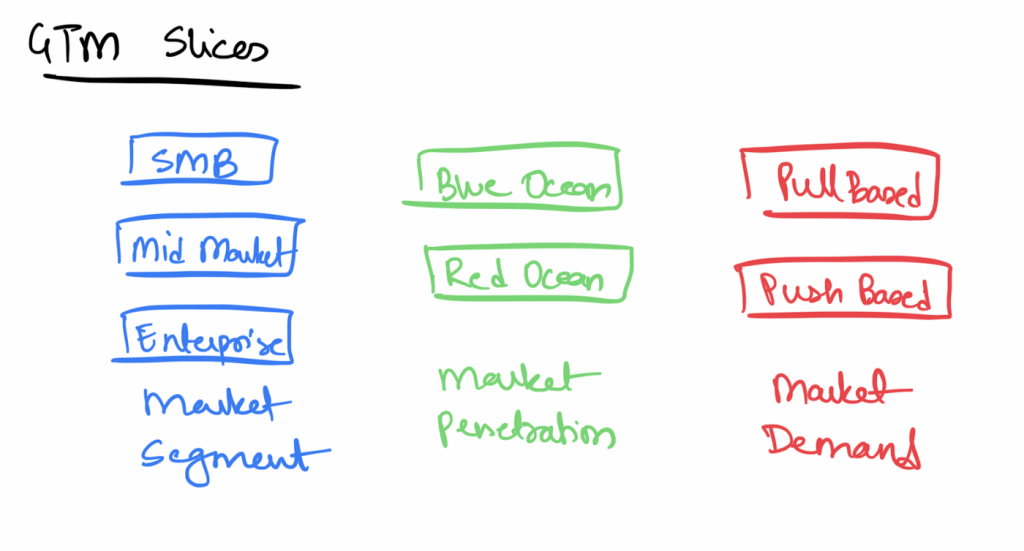 Most tools are not customizable for each motion, and most organizations execute across different slices.
Further adding geographical slices, you soon realize that tools simply cannot cater across all these different GTM strategies.
Analytics & Attribution
As we have already seen across the stack, marketing activities are split across multiple tools, and Gartner suggests that over 60–70% of marketing leaders are not satisfied with their B2B Marketing Analytics, and that is understandable because none of the offerings today are solving the problem that sits at the foundation.
Solutions today are primarily some form of a meager combination of Descriptive & Diagnostic solutions. Solutions need to take this one step further & deeper by aiming to create a full-fledged analytics solution that offers predictive & prescriptive capabilities to marketers — helping CMOs build a solid trustable pipeline generator for their organizations.
A potential prospect interacts with multiple marketing activities before converting into a lead. They might have attended the webinar, seen an ad, or received multiple emails before eventually filling out a form to reach out for a demo? How do you attribute the lead to just one activity in such a scenario? Hence, marketers use multiple attribution models, but none are good enough to accurately represent what works and what doesn't.
Consolidation & a central-hub for marketers
Current marketing teams are using at least 10–20 tools, spending some of the highest IT budgets across teams. With a broader macro moving towards reduced spending, it'll be interesting to see solutions that can offer multiple such offerings without compromising on the overall performance.
Another missing piece is the single source of truth/central hub for marketing teams.
Sales have salesforce (CRMs); Engineering teams have JIRA; what is that equivalent solution for marketing teams?
A central well-connected dashboard with real-time data for marketing leaders to gauge performance, predict quarterly pipeline, and judge ROI on all channels. This is a white space that hasn't been solved yet.
Just look at the sheer amount of tools in this space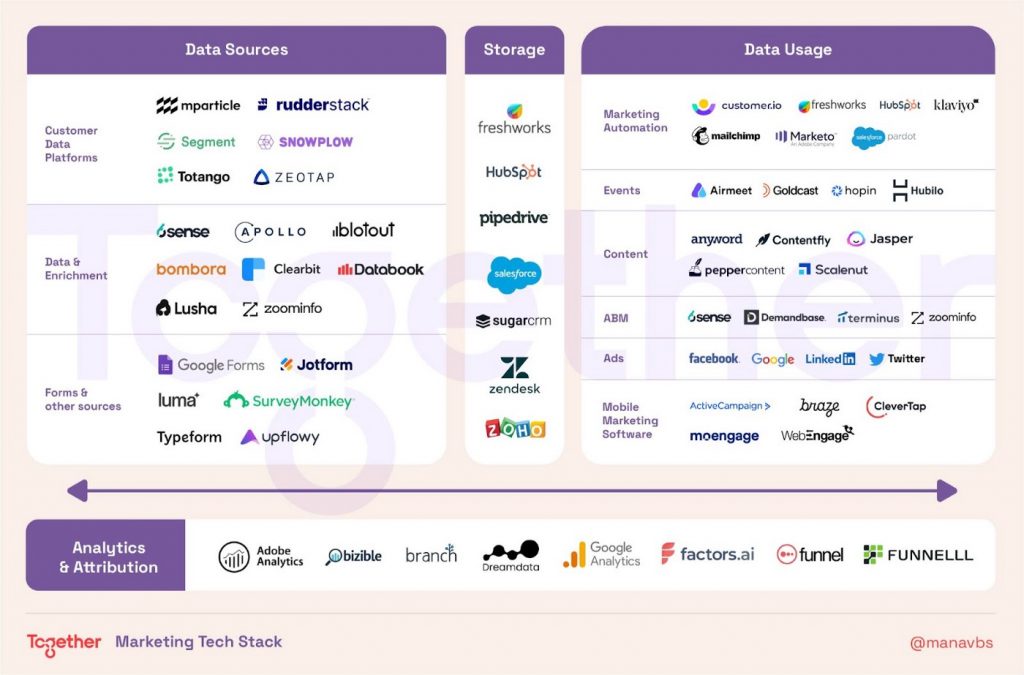 In the third part of this series, we will look at some of the most innovative companies in MarTech that have come up in the last few years.
So stay tuned in.
If you're building a disruptive company addressing the marketing stack and our perspective above resonates, we would love to hear from you.