The internet has evolved faster in the past two years than ever before. Web2 natives are moving to web3 and entrepreneurs are actively building businesses on blockchain.
At Together, we identified the problem early that entrepreneurs building on web3 faced the same challenges as all other founders. They needed help to go from 0 to 1. And unlike web2, there are no playbooks to guide them. Mentors are few and far between. This prompted us to start BUIDL Together. We've written about it here.
When we sent out the call for applications, ‌70+ startups applied. We couldn't say yes to them all, though we wanted to and had to whittle it down to a total of 10 companies. We introduced the companies here and here.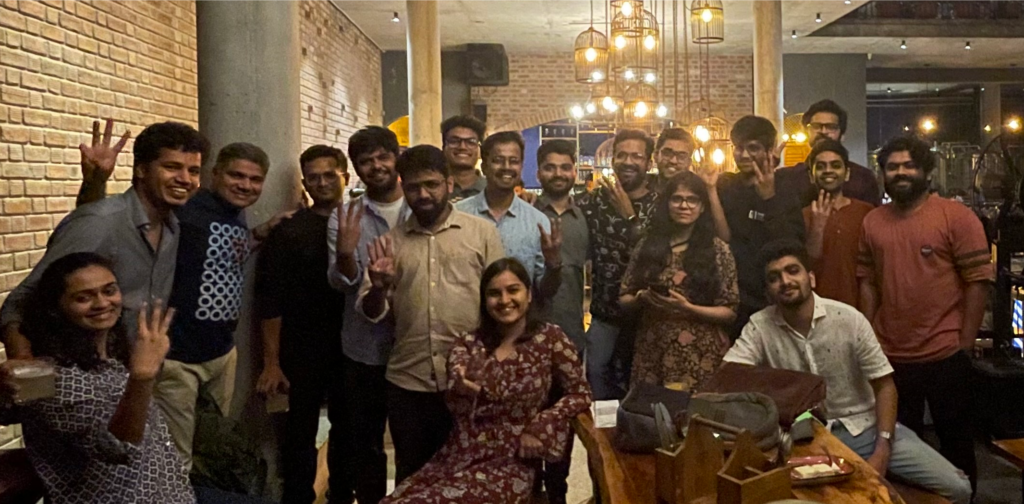 We put these companies through a 12-week bootcamp, which has finally ended. The bootcamp offered masterclasses on various issues web3 founders have to tackle. Together has always believed in sharing knowledge with the larger community. We want to walk you through each masterclass, and bring you some knowledge nuggets from each class taught by the programme mentors.
The masterclass series began with a conversation on Business Models in Web3. Santosh Panda, Co-founder & CEO, Foundership, spearheaded this class and offered deep insights. The focus of Santosh's session was on the community-centric nature of web3 and how that det ermines everything being built here.
A few things he talks deeply about include the new principles that web3 enshrines, and the new paradigms and revenue models that make web3 unique. Santosh explains data is accessible and open to all on web3, and large products can be built on existing protocols without permission. On web3, Santosh points out, even revenue models are decentralised and therefore community-focussed. Think of the DAO model, for example.
The focus of this masterclass was choosing the right web3 tech stack, and Skanda Bhat, Tech Lead at Razor Network, offered valuable insights. Skanda says the trilemma of the blockchain—the tradeoffs between security, scalability, and decentralisation—has to be borne in mind while picking the tech stack. The choice is based on your use case. If your project's need is super high security, then you should deploy on a more decentralised network such as Ethereum, but if you want to secure a lot of value on your protocol, then opt for Polygon or Ethereum.
Along with this, founders also need to keep an eye on the developer community, adds Skanda. They should follow the changing trends in the web3 space. This will help pick talent.
Asad Abrar, Product Manager at Coinbase, spearheaded the third masterclass and talked about the changing roles of the product managers (PM), as they go from web2 to web3. The web3 PM will have to have a larger knowledge base and a deeper understanding of the web3 sector they are choosing to work in.
A key point to remember, he adds, is to check the intention of the product manager—is the PM in it for the long run and for the right reason? Another important aspect to check for is the mindset of the PM. Web3 PMs, unlike PMs on web2, cannot be too tied to the product roadmap. Web3 is dynamic, the PM will have to be dynamic too.
Skillenza founder Subhendu Panigrahi's masterclass was all about the what, when, why, and how of community building on web3. Subhendu says communities on web3 are simply brand communities. When an organisation's goal and its members' aspirations are aligned, a community is formed. The ideas of community differ in web2 and web3.
For one, web3 communities have contributed towards building them, so they have contributor's cognitive bias. The community members are also involved in building the product and have micro ownership. Finally, every community member has governance tokens on web3. They can vote and change the direction of the product. There is true governance participation. However, Subhendu warns the web3 space is new, and true governance can also become an agent for chaos. Too many cooks can spoil the meal.
Onboarding Users from Web2 to Web3
Rahul Aswani's session focussed on one of the key aspects of product management—user onboarding. He says the user truly realises the potential of the platform or product a company has built when they hit a key or happy event which solves their problem, something that makes them stay. When that happens, a user has been onboarded.
It's essential for companies to know what their happy events are. Without this knowledge, user onboarding will not be possible. Ultimately, it bodes well to remember that the users aren't buying your product, but are buying a better version of themselves. Unless your product gives them that, you won't onboard them.
For a project to run successfully on web3, a well-designed tokenomics model is essential. Chirag Mehta, the founder of Clip Financial, talked about this in his masterclass. Some factors web3 space founders need to remember, he says, are the questions of supply and emission. Will your tokenomics model be a limited supply one or an unlimited supply one? If you are a limited supply model, how many tokens will you be minting? Chirag says the utility of your designed token will decide the number for you.
Once the tokens are minted, the allocation process begins—who gets what percentage of the token shares? Then there is the question of emission, in what phase, and how many tokens will be released.

Setting up a company is a gigantic task. Aadya Misra and Nikhil P. Joseph, both senior associates at Spice Route Legal, focused on the legal aspect of building a web3. The first thing you should remember, says Nikhil, is that if you set up a business in a foreign jurisdiction, ensure it speaks the same language as you.
Then there is the question of how friendly the country is towards innovations in web3, especially crypto. If the country's laws are constantly changing, that is not where you want to be. One of the major challenges, warns Nikhil, is setting up a financial structure for the company. Banks and financial regulators are wary of crypto. And without a financial structure in place, you can't run a business.
Fundraising is just one part of the startup process, and not even the most important part. This is how Prajnyasis Biswas began his masterclass on Fund Raising in Web3. While funds provide‌ access to networks, while they offer a runway, are a source of good PR, and offer validation, these are poor reasons to raise funds, says Prajnyasis. The only reason to do it is growth. If you can't grow without money, raise funds.
Web3, Prajnyasis adds, is community-centric, validation is available at every stage, and so is feedback. In web2, if customers send feedback, you can thank them and move on. But in web3 a community is powerful, can vote, and ensure that their feedback is implemented. A community can influence investors. Founders, as they enter the web3 space, need to leave the web2 mindset outside.
Pitch Deck and Storytelling
When building a company, you will have to present your idea at various stages. Chinmaya Saxena's masterclass focuses on building the right pitch deck, telling the right stories, and how to do it swiftly. Chinmay says, while putting all your slides together, there are a few things you have to remember. How much time will you allocate to each slide? What outcomes do you expect from each slide? Will this make sense to the lenders? Can this help me convince the audience of the TAM for my product? Is this explaining my GTM with clarity? Will this help me explain the problem I want to solve? Is my slide showcasing how my product solves the problem? The goal is to answer these questions for yourself and tell a good story.
The masterclasses witnessed active participation from our cohort members. They were given the opportunity to discuss their ideas, pose questions, and receive feedback.
Impact of the bootcamp
As the process came to a close, we got our cohort on YouTube to share with the world what they're building and the large problems they're trying to solve. Here is our recorded session with them. This showcase received a tremendous response and was attended by founders, VCs, and angel investors. The excitement was palpable. The live chat was buzzing with questions, reactions, and responses from the attendees, who were curious about the companies, and eager to meet the founders—a thing that happened.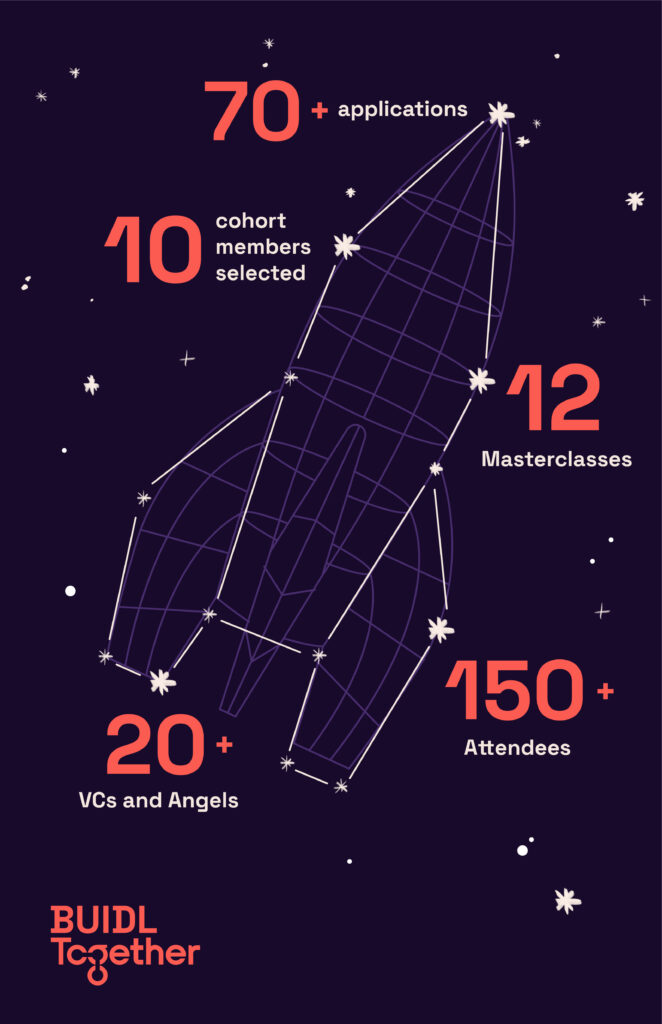 After the Showcase, all ten startups got call backs from VCs. When we set out to build the BUIDL Together Bootcamp, this is what we wanted to achieve. Our ambition was to create a platform where web3 companies could find recognition, and founders could grow, scale, and find their wings‌. We have accomplished our goal. This is our platform.